This is a story of how an artist in Italy and a tattoo artist in Chicago made my arm beautiful again 🙂
I had a tattoo done on the top of left arm that meant a lot to me. It represented who I was as an artist. How growing up art has always been my release and escape from the troubles I was facing in my life. For those who follow my blog or know me I am talking about my Art Heals Crayon Tattoo. I got it 3 years ago and at first it was great but after it healed a pit of regret started to eat at me. Everyday I would look at it on the top of my arm and wish the artist would've thought a few things through. Meaning that once it healed it would look a bit different. What happened was the lettering was done so closely to the edges of the banner that when it healed and the ink set to the skin the word HEALS was no longer legible and parts of the banner and crayons just didn't come out as I expected either. The backgound was so dark it lost some of the focus of the tattoo as well. I hate to admit it but the tattoo was a bit rushed by the aritst leaving me with a tattoo that just didn't heal the way it could/should have. Having many tattoos I take care of them and they always heal perfectly. I took care of this one just the same.. including sunblock on sunny days like I do my sleeve.. back and arm tattoos. However no matter how well you take care of something a rushed tattoo is never going to be what it could have been. Sad seeing it was one I thought so long and hard about before I got it done.
The biggest kicker was that so many times people complimented the tattoo but always followed it up with one question……… "Art …. what?"
Seeing that was the whole vision and message behind the tattoo, it killed me to be asked that so many times. A tattoo with that much meaning should not hold that much regret. It was eating at me so much that I finally decided to do something about it.
At first I asked some artists if they could fix it. Most of them told me they could but that as it healed and time went on it would most likely do the same thing. They could brighten the banner and other parts of it up again but there wasn't much more that could be done. Seeing this was on the top of my arm I wanted to really think this through. I decided to make my appointment for fixing it for now. Even if it was temporary it was better then nothing. I told myself if I found something with just as much meaning that would cover it up then I would go that route with my appointment instead. Ryan Gutekunst was willing to work with me either way and couldn't get me in until June. That gave me 4 months to figure out what route I would choose. I knew he would be the man for the job because his work is amazing and I had seen cover ups and other work he had done my friends in the past.
One day by chance as if it were meant to be I was on Etsy searching for Big Eye Art (because I just love it) and my jaw dropped when I came across a watercolor painting done by an extremely talented artist from Italy….Simona Candini. It just reminded me so much of myself and myself as an artist. Creepy meets cute. Macabre meets Feminine. You know my whole Jem and Elvira ulter ego personas that make up who I am :). Then I read the title of the piece "Little Demons of Inspiration" and then it hit me… THIS was my cover up!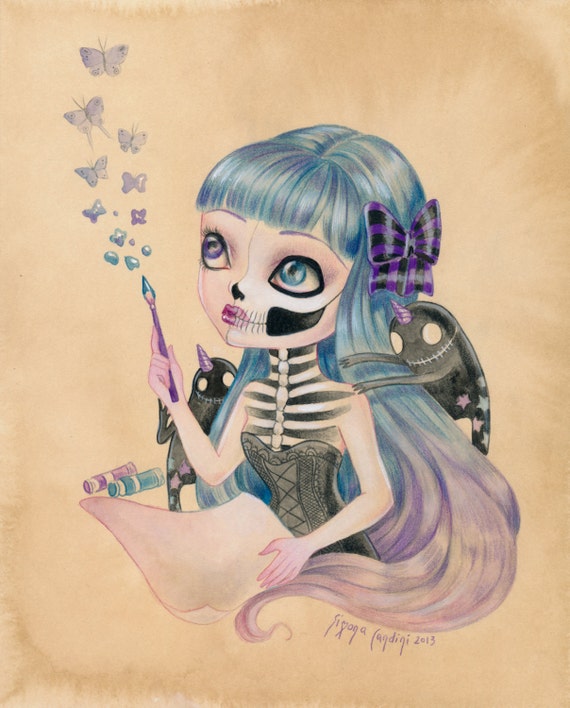 I knew some altering would need to be done to cover up the old tattoo (such as darkening the colors or even possibly changing them) plus out of respect as an artist myself I contacted Simona and asked for her permission to get her work done as a tattoo. She was nothing but supportive and very happy that I wanted to use her piece. She asked me to send her photos. It was set! I let Ryan know and he said it could be done. I could not be happier.
In June I had my first session. I got the whole outline done.
Stencil placed over old tattoo…
Let the pain begin…
We added a few things. Some bats in the mix of the butterflies coming off her paintbrush to sortof represent me a little more but also to blend with the bats on my Count Von Count wrist tattoo that would be below the new tattoo. Ryan also surprised me with a little skull added ot the center of her bow! So me!
Simona was thrilled with the addtions and even shared the work on her Facebook page.
Well I had to wait 5 months to get my next session scheduled because Ryan is so good he is a hot commodity. The good thing is that gave the outline a good time to heal so that when he did fill it in he had a nice canvas to work with. Especially with it being a cover up.
Well folks my appointment was yesterday and I could not be happier.
I may have to go back in for one final touch up once it heals to make sure the old tattoo doesn't come through. Ryan is smart about cover ups. He starts off light. Waits for them to heal and then adds to them. Some artists like to just go in there super dark and then there is nothing you can do about it later. Glad he knows what he is doing because I could not be happier. My arm hates me and Ryan right now after all the hours of drilling the ink in ha ha (he isn't heavy handed at all.. just good work takes time and should never be rushed which I learned the hard way with the original tattoo I was getting covered ha ha). I am sure once it's no longer red, swollen and painful it will be alot happier ha ha.
If you are in the Chicagoland area and looking to get work done I highly recommend Ryan. He can be found at Insight Studios! Hit him up! Don't forget to also check out Simona Candini's insanely beautiful work as well!
Stay Spooky!
LDG Nicole